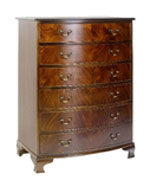 Thank you for your interest in our collection of reproduction furniture made from the best quality yew and mahogany veneers.

The range comprises of reproduced designs from the best periods of English classical styles, including Chippendale, Hepplewhite and Sheraton, you will find Dining Tables, Dining Chairs, Sideboards, Bookcases, Display Cabinets, Corner Cabinets, Wine Cabinets, Open Bookcases, Bureaux, Chests, Video Cabinets, TV Cabinets, HI-FI Cabinets, DVD/ CD/Video Cabinets, Hall Tables, Occasional Furniture, Study & Office Desks, Computer Desks, Filing Cabinets and Leather Desk Chairs.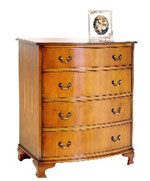 On the side navigation you will find an extensive range under various companies here there is a link so that you can request a brochure and visit their website to view the full on line range and make a note of any items you are interested in then contact us for any further information and our special prices, please enquire if you do not see the size or item you are looking for as we have many other contacts.

You can also visit our showroom to view the furniture and the wood finishes.